Transform your bedroom from a cosy winter nest to a stylish spring retreat with our style tips from interiors expert, Emma Hooton. From ice cream paint shades to embellished walls, this season uses a mix of colours, patterns, textures and shapes to create an expressive and uplifting space to sleep.
New neutrals
Last year's trend for opulent jewel tones and plush textures is starting to make way for softer, more comforting shades such as peach and blush pink. Fulfilling what Dulux's Creative Director, Marianne Shillingford describes as our need to "return to the familiar, to create a home as somewhere safe and nurturing" the new ice cream shades provide a stylish nod to the 70s while unlocking the restorative potential of our homes.
Emma's style tip: Rather than ditch a bold colour scheme, try introducing brassy tones with wood and a softer companion colour to bring the scheme up to date.
Statement storage
Larger, more whimsical statement furniture pieces take centre stage this season as the 80s maximalist trend gathers steam. From stylish metal garment racks to open fronted bedside tables crafted from textured wood and antique brass, this season is all about showcasing your treasured items, rather than discreetly stashing them away.
Emma's style tip: Where tricky spaces make freestanding furniture impractical, opt for fitted units and make the material choice and finish the focal point of the design.
Image: West Elm, Roar Rabbit Brass Nightstand
Wall art
The renewed interest and enthusiasm for crafts has led to a resurgence in woven wall art. From stylish 70s macramé wall hangings to pretty heirloom rugs, stylish hangings can bring warmth, depth and colour to a bedroom, and break up an otherwise flat painted wall. Grasscloth wallpaper made from hand-woven strands of natural fibres can also help you create an authentic handmade feel.
Emma's style tip: Add interest and personality to a scheme by taking a more eclectic approach. Rather than adhering to the rules of three, mix and match your wall art for a less staged, more organic look and feel.
Image: Modern Macrame, Fringe dreams wall hanging
Shapely furniture
Shapely furniture is a great way to make a statement, especially in a room that lacks any personality or architectural features such as exposed walls or beams. Try juxtaposing different wood and brass textures with unusual furniture shapes for a striking and elegant contemporary bedroom design.
Emma's style tip: Just because you've gone shapely, it doesn't mean you need to tone down the rest of the room. An oversized headboard upholstered in a standout fabric can look great with patterned wallpaper and accessories in contrasting colours, textures and shapes.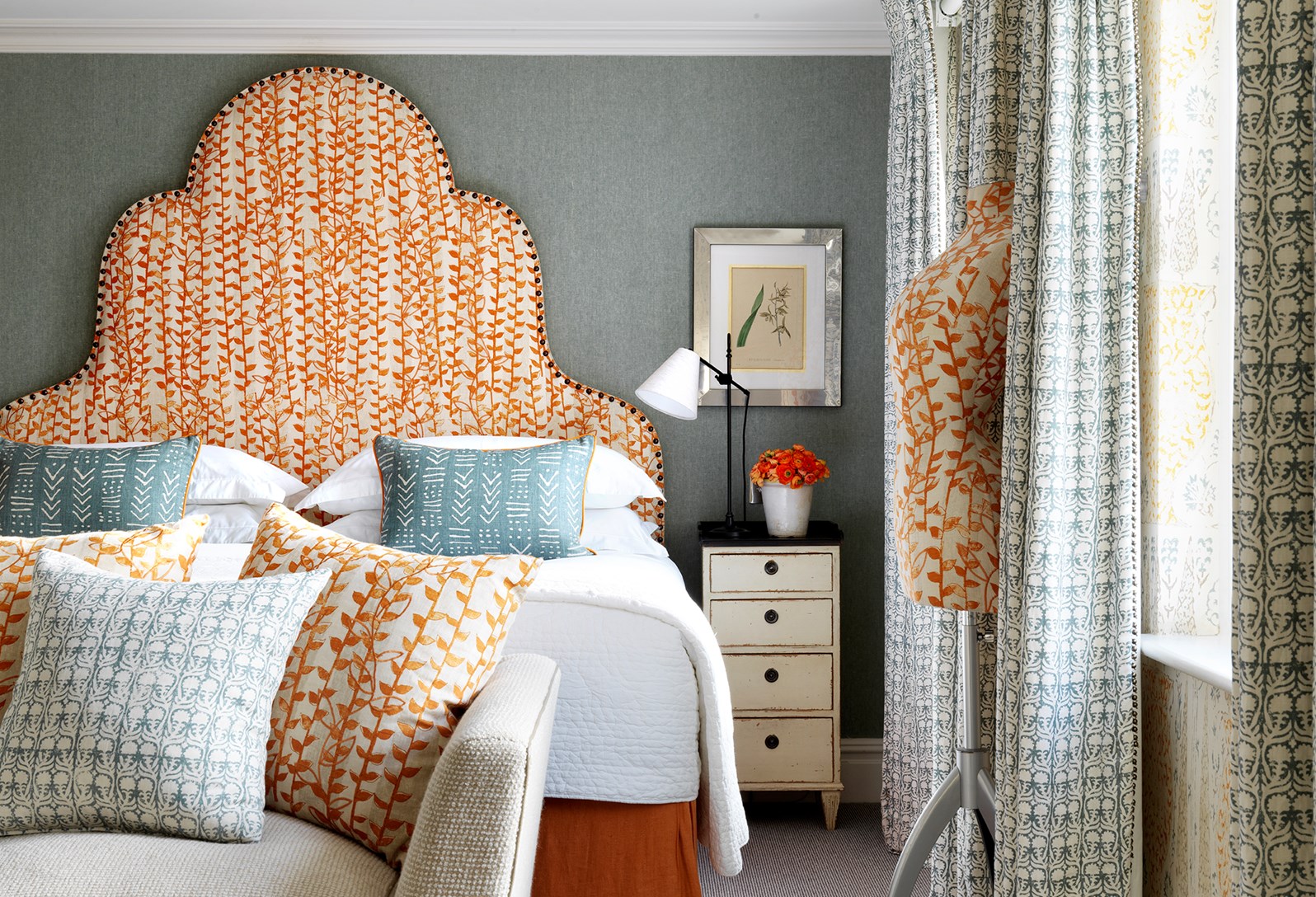 Image: Firmdale Group, Ham Yard Hotel
Natural accents
The trend to connect with nature shows no abating as it spills over into everything from wallpaper prints to fabric patterns this spring. Providing a refreshing antidote to our increasingly frenzied lives, the colour green also has a calming effect on the mind – hence why production studios have 'green rooms' to calm guests - making it a great colour choice for a relaxing bedroom.
Emma's style tip: Clusters of cacti and succulents in pots, hanging planters or terrariums can add style and vertical depth to a room, and look just as good fake or real. Head to Fleurs for some green-fingered inspiration or for faux flowers, Abigail Ahern.
Patterned fabrics
Punchy, patterned fabrics are gaining increasing popularity, with velvet currently topping the bill as the fabric of choice for statement soft furnishing. Velvet walls and upholstered headboards and quilted chairs in a riot of colour and pattern can bring unapologetic luxury to even the humblest guest bedroom.
Emma's style tip: Patterns don't have to match, they just need an element in common such as colour, style or scale to work. Try mix and matching patterns and colours for a deliberately over-decorated maximalist look.
Image: Timorous Beasties Fabric, Indie Wood
Bed linen
Neutral cotton bedsheets continue to be a bedroom must-have this spring and provide the perfect backdrop to any scheme. Shed the winter layers in favour of a generously-sized textured cotton bedspread and textured cushions that pop against the smooth cotton sheets.
Emma's style tip: Different textures and accents are key to making the scheme three-dimensional rather than flat. Try mixing cool grey linen with velvet cushions in a deeper tone for more depth and interest.